Still having fun with
Mr Vista
as an ongoing project. It started out as an experiment in seeing if shorts can be made to break even. Well the answer is yes - if you shoot 8 in a day. That way it kind of just about makes economic sense and could be a business model that you could repeat and use. If anyone else wants to have a go at creating a web series that works in a similar way and funds itself then I'd be pleased to advise in more detail.
But there are other ongoing experiments with the
Mr Vista
project too. I'm trying to weigh up how well the idea of
product spin offs
would work. The progress bar works well outside of the films - like with the piece of satire above.
So will that work on a T-shirt. And will anybody care???
The little thingy above is a small flash app that shows you the kind of crazy stuff I'm peddling. But if it doesn't work then I have a simpler picture below. I will see how it goes and report back!
Zazzle
seems like a good site if you want to have a go yourself.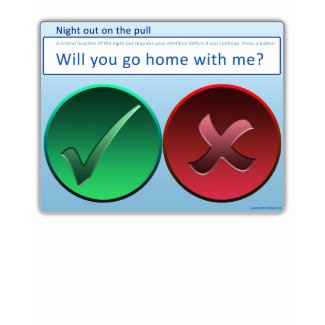 "Push to Pull"
designed by
Mr Vista
Design a
Custom Shirt
with www.zazzle.co.uk