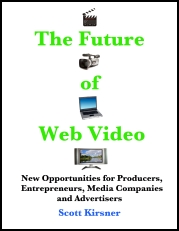 A few posts ago I talked about the
rules of the film2.0 world
. Well Scott Kirsner over at the
CinemaTech
blog has gone one better. He has collected together all the thoughts and ideas from over 2 years of interviews with the top 'web video' guys into one place. His approach is much more on the business behind it rather than the art. Its a good length as well - about 90 pages.
Here is how Scott sums up the book...
"Initially, my objective with the book was to put together something that would be useful for independent "creatives" -- filmmakers, freelance TV producers, anyone with a camera and an idea -- who want to understand how they can make money in this Web video economy. I hope I've achieved that. But as I was writing, I expanded the scope quite a bit, getting into the the challenges and opportunities Web video creates for big media companies, advertisers, and entrepreneurs. There are lots of interviews, data points, and case studies."
Scotts a good writer and has written on this topic for big US publications like The Hollywood Reporter, Variety, NY Times etc.
You get it from
here
and it costs £10.99 for a paperback copy but there is a cheaper e-book version. Scott sent me a free preview copy as he knows this is right up my street. But, just to be clear, I don't get any commission or any benefit from recommending it. But I do recommend it none the less. I'm half way through and its given me 3 ideas for Circumference already. I
don't
recommend that you give it to your mum as a Christmas present.